Output 1
DECENTRALIZATION STUDY
Decentralization of childhood TB diagnosis
at district health system level
Proper TB diagnosis evaluation is rarely implemented for children at district hospital level and primary health care level in high TB-burden settings. More evidence is needed to recommend the best approach to childhood TB diagnosis in district health systems. This operational research implemented in collaboration with the National Tuberculosis Programs (NTPs) will use an innovative diagnostic approach based on Xpert MTB/RIF performed on a combination of easy to collect samples (nasopharyngeal aspirate and stool), standardized symptoms screening and chest radiograph interpretation.
Objectives
To assess the impact on childhood TB case detection of decentralizing an innovative childhood TB diagnostic approach

To compare the efficiency, feasibility and acceptability of two decentralization strategies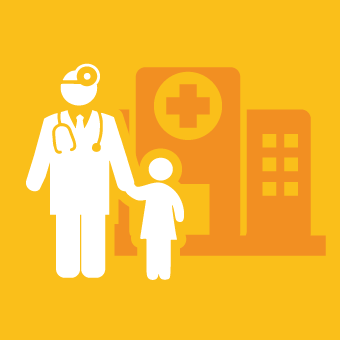 Participating countries:


Study population
Children aged below 15 years seeking care at the district hospital and primary health care centres of selected districts.
Study intervention
Patient level: Innovative Childhood TB diagnosis

Systematic screening
Clinical evaluation
Molecular diagnosis: Xpert Ultra on Nasopharyngeal Aspirates & stool samples
Optimized chest X-Ray

Health System level: 2 different decentralisation strategies:

district level decentralisation including screening of children for TB at primary health center level and reference to district hospital for microbiological, clinical and radiological diagnosis
primary health center (PHC) decentralisation with screening, microbiological and clinical diagnosis done at PHC and reference if needed to district hospital for CXR and further investigations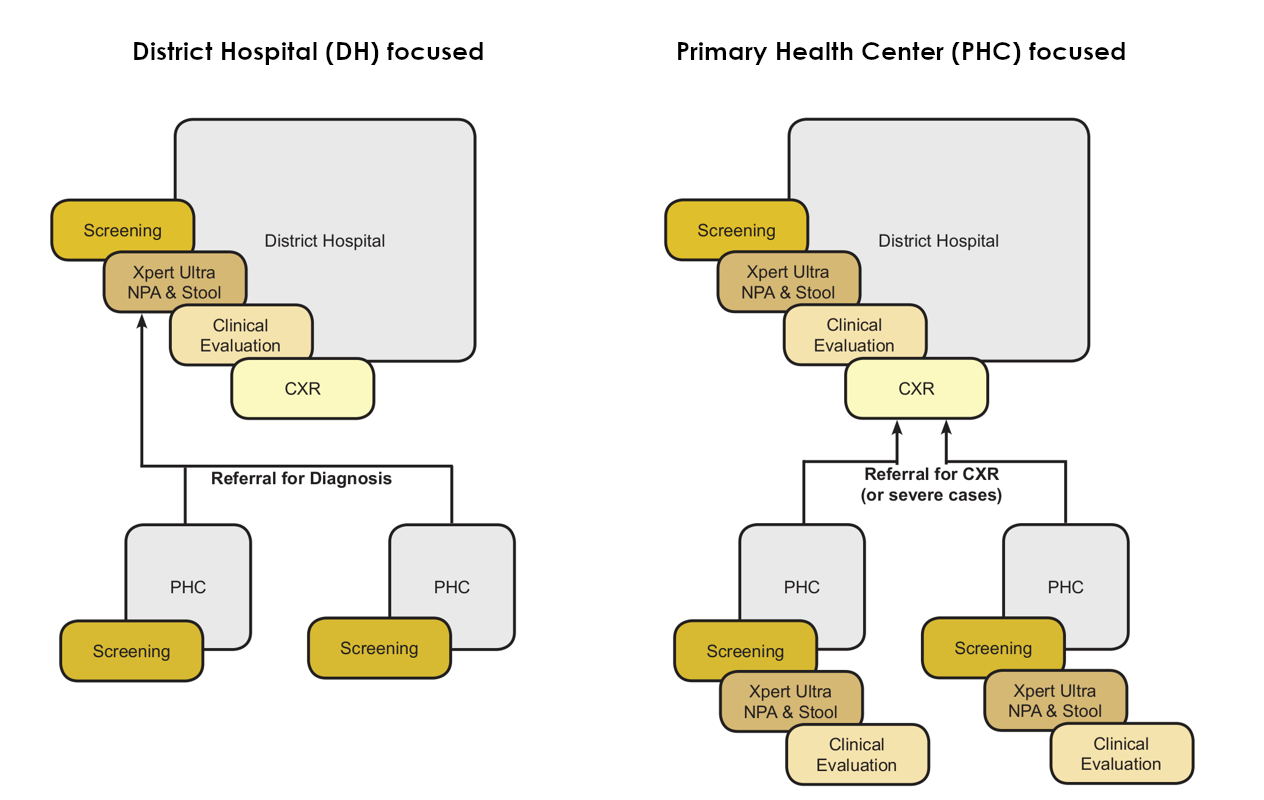 Output 2
PNEUMONIA STUDY
Evaluation of an early TB detection strategy in children with severe pneumonia
TB usually presents as a chronic disease in children, with symptoms such as cough lasting for several weeks. Recent studies have shown that it can also present as a pneumonia, a rapidly progressing disease with acute symptoms including cough, fever, and shortness of breath. In children with pneumonia, tuberculosis is poorly recognized or diagnosed late, which contributes probably to increased mortality.

Objectives
To assess the impact on 12-week mortality of adding systematic TB detection using Xpert MTB/RIF Ultra on nasopharyngeal aspirates (NPA) and stools to the WHO standard of care for children <5 years with severe pneumonia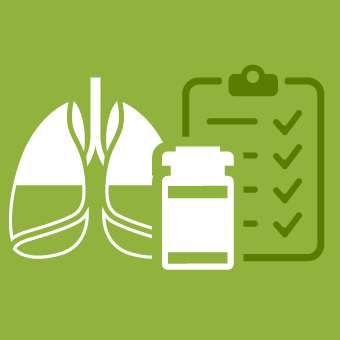 Implementing countries

Study Population
Children aged 2 to 59 months with WHO-defined severe pneumonia
Study intervention
All children treated for pneumonia with the WHO standard of care (intravenous antibiotics and oxygen if needed)
Xpert Ultra performed immediately upon admission on nasopharyngeal aspirate and stool samples
Immediate TB treatment initiation if Ultra positive

Cluster-randomized trial, stepped wedge design
15 tertiary level hospitals, 6 high TB incidence countries (Côté d'Ivoire, Cameroon, Mozambique, Uganda, Zambia, and Cambodia)
Hospitals randomly selected to switch from control to intervention every 5 week
Randomization stratified on estimated TB incidence in the country:

High: 100 to 300 cases/100.000 population (Côte d'Ivoire, Cameroon, Uganda)
Very high: >300 cases/100.000 population (Mozambique, Zambia, and Cambodia)
Output 3
HIV & SAM STUDIES
Validation of diagnostic tools and algorithms
in HIV-infected children and severely malnourished children
with presumptive tuberculosis

HIV-infected children and children with severe acute malnutrition are highly vulnerable population with regards to tuberculosis. Immunodepression due to HIV or to malnutrition exposes them to a higher risk of developing tuberculosis disease and higher mortality. In these children, diagnosis of tuberculosis is challenging because they do not present a lot of symptoms, or their symptoms are hard to differentiate form other infections, especially when they are HIV-infected.
Objectives
To develop and validate specific algorithms and diagnostic tools in children with HIV and children with SAM. Algorithms are standardized decision rules for diagnosis and treatment initiation.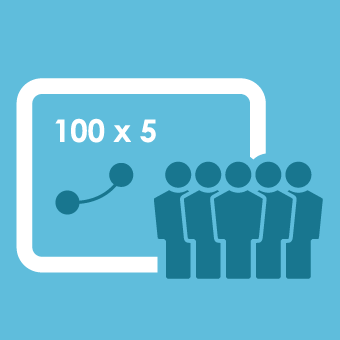 Implementing countries

Study Population
550 HIV-infected children with suspected tuberculosis
720 hospitalized children with severe acute malnutrition
Study intervention
Xpert Ultra done on respiratory (NPA, sputum), and stool samples
Chest radiography and abdominal ultrasonography
Clinical features validated in a previous study in HIV-infected children
TB PAANTHER Therapeutic Decision Algorithm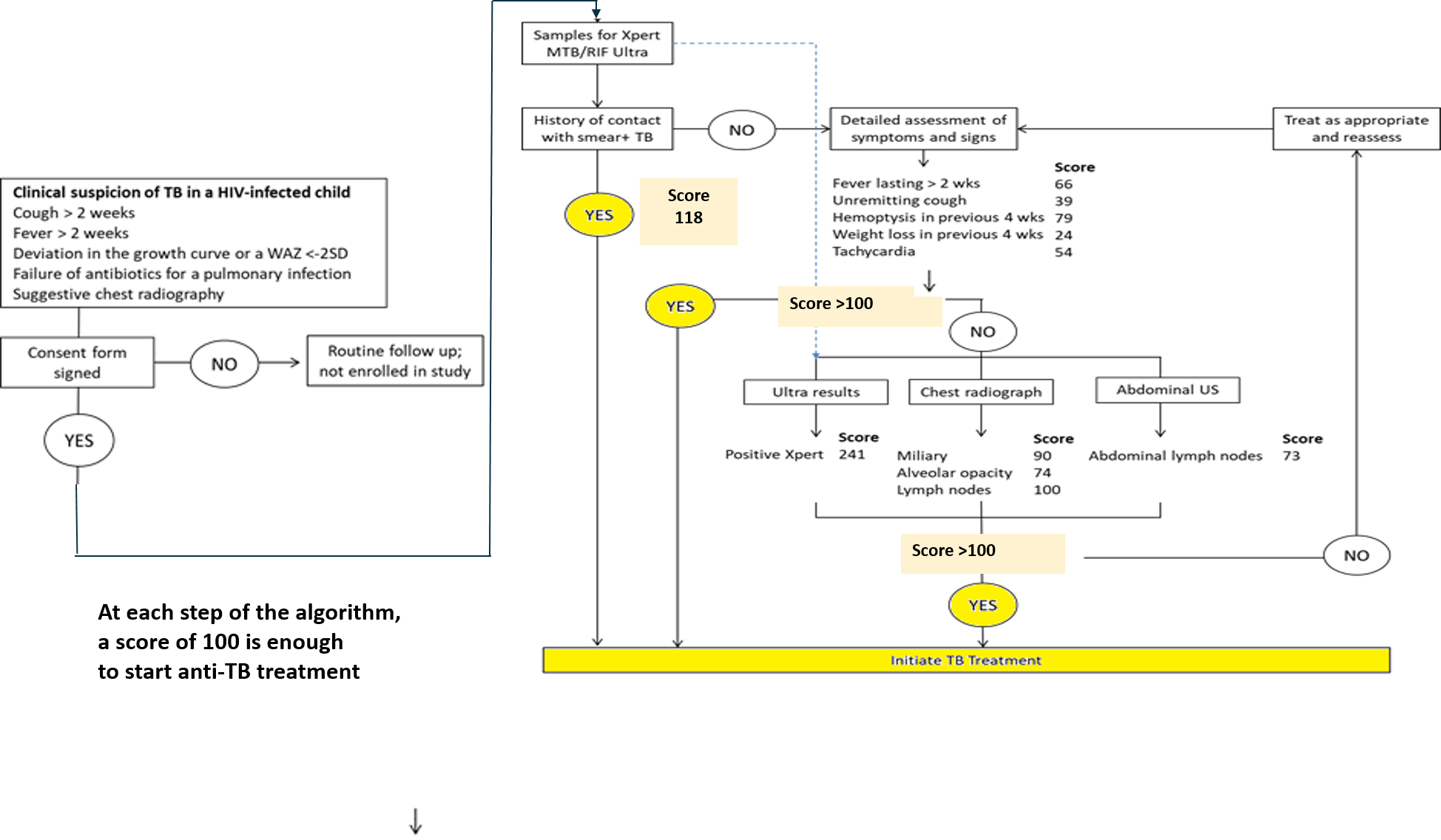 Output 4
STOOL PROCESSING STUDY
Specimen processing and collection methods optimization

This output involves microbiological and technological optimization work to identify and test simple and affordable specimen processing and collection methods for childhood TB diagnosis that can be deployed at low health care level in resource-limited countries. Indeed, stool is a very promising sample for diagnosis of TB in children but it requires to be processed before testing with Xpert MTB/RIF assay to remove factors that inhibit the molecular technique. This processing needs to be optimised and simplified to be used at low health care level. Nasopharyngeal aspirates, another promising method for specimen collection in children, requires equipment (aspirator) and device (mucus extractor) that can be expensive and difficult to procure. Therefore more work is needed to ensure secured access of robust and affordable equipment and devices for nasopharyngeal aspirate for limited resource countries.
Objectives
To optimize stool specimen processing for Xpert MTB/RIF testing and nasopharyngeal aspiration method for childhood TB diagnosis in resource-limited countries at low health care level.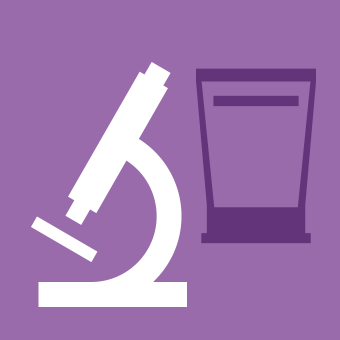 Implementing countries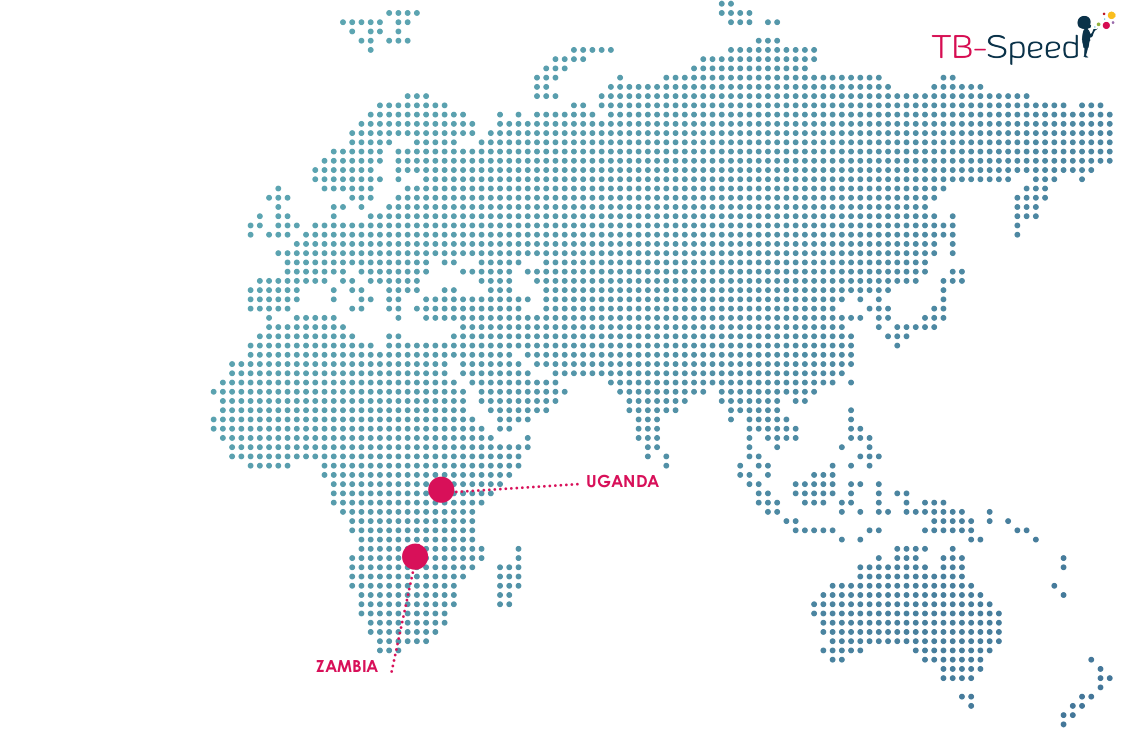 Study Population
550 HIV-infected children with suspected tuberculosis
720 hospitalized children with severe acute malnutrition
Study intervention
Multicentric, two-stage prospective diagnostic cohort study to evaluate the diagnostic accuracy of Xpert MTB/RIF Ultra performed on stool samples collected from children with presumptive TB and processed using four different processing methods (Standard sucrose flotation method, optimized sucrose flotation method, SPK, and STEP)
Activities
Generation of a centrifuge-free stool processing method for Xpert MTB/RIF testing

In-vitro optimization study (spiked samples)
In-vivo testing of different processing methods

Optimization of nasopharyngeal aspirate sample collection
Development of guidelines and training material for stool processing and optimized nasopharyngeal aspirate
Output 5
HEALTH ECONOMIC ANALYSIS
Cost-effectiveness of the proposed diagnostic approaches

Cost effectiveness and budget impact analyses are needed to evaluate the long-term impact of improving pediatric TB diagnostic, guide health authorities' decisions and support the implementation of TB-speed approach in resource limited settings.
Objectives
Evaluate the cost-effectiveness and budget impact of proposed diagnostic approaches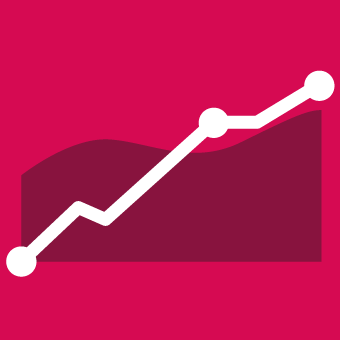 Output Intervention
Methods
Development of an impact and cost-effectiveness model for pediatric TB
Cost-effectiveness and budget impact assessment for TB-Speed
Market analysis for pediatric TB diagnostics
Development of a budget forecasting tool for NTPs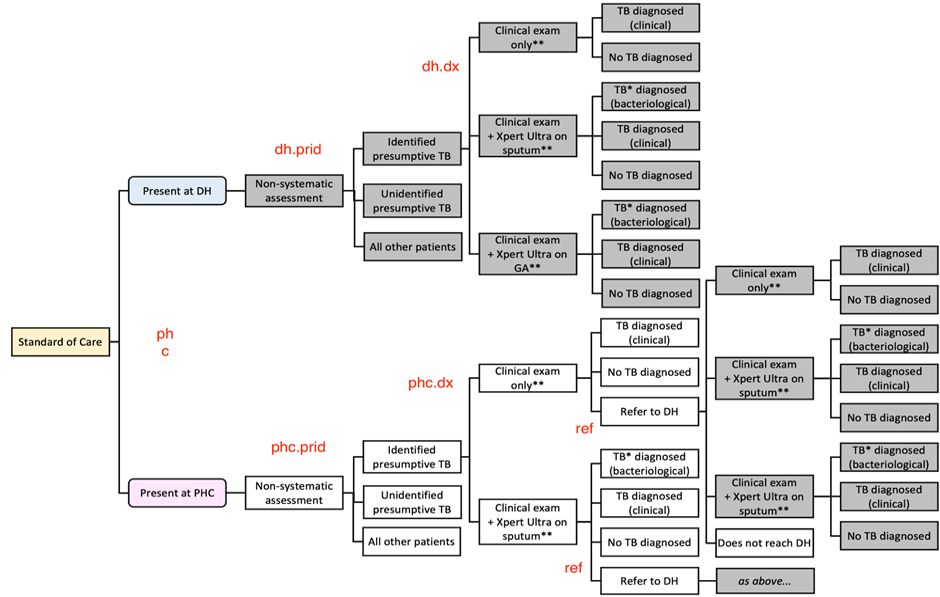 Output 6
COMMUNICATION
Dissemination, communication and stakeholders' engagement
This includes communication on the project progresses, advocacy towards the relevant stakeholders, and dissemination of results to support future scaling-up.
Objectives
To increase project visibility, involve stakeholders, raise awarenes about paediatric TB, and disseminate project results to ensure policy change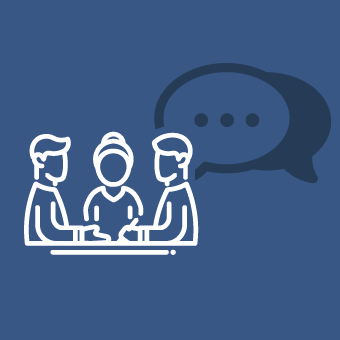 Activities
Communication plan and stakeholder's engagement
Dissemination campaign targeting the scientific and health staff community
Presentations at international conferences
Development of educational materials