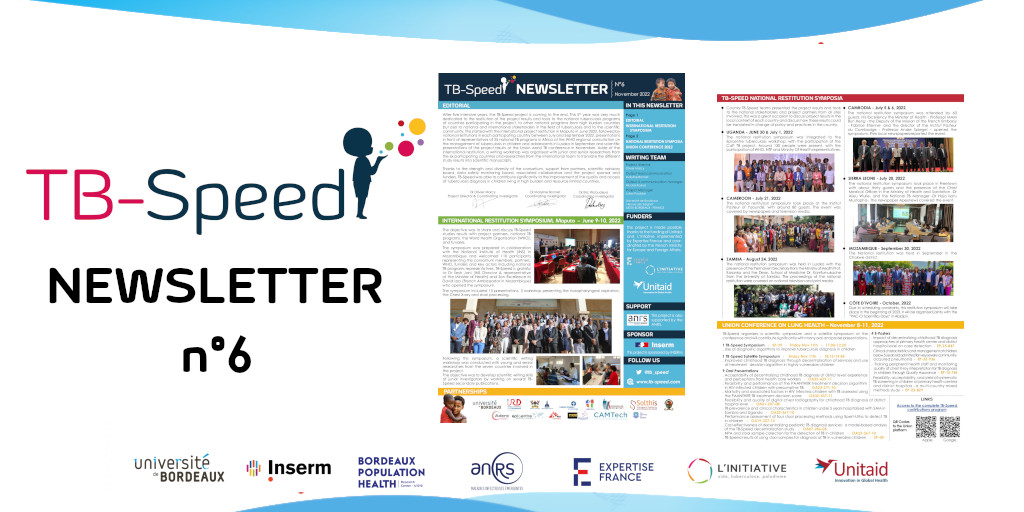 EDITORIAL:

After five intensive years, the TB-Speed project is coming to the end. This 5th year was very much
dedicated to the restitution of the project results and tools to the national tuberculosis programs
of countries participating in the project, to other national programs from high burden countries
but also to national and international stakeholders in the field of tuberculosis and to the scientific
community. This started with the international project restitution in Maputo in June 2022, followed by
national restitutions in each participating country between July and September 2022, presentations
in front of representatives of 25 national TB programs in Africa at the WHO regional consultation on
the management of tuberculosis in children and adolescents in Lusaka in September and scientific
presentations of the project results at the Union world TB conference in November. Aside of the
international restitution, a writing workshop was organised with junior and senior researchers from
the six participating countries and researchers from the international team to translate the different
study results into scientific manuscripts.
Thanks to the strength and diversity of the consortium, support from partners, scientific advisory
board, data safety monitoring board, associated collaborators and the project sponsor and
funders, TB-Speed was able to contribute significantly to the improvement of the quality and access
of tuberculosis diagnosis in children living in high burden and resource limited countries.