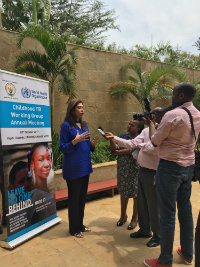 The annual meeting of the Child and Adolescent TB working group took place on Monday 9 October 2017 in Kigali, Rwanda in conjunction with the WHO AFRO Annual Review and Planning Meeting of Reproductive, Maternal, Newborn, Child and Adolescent Health and Nutrition Programme Managers in the East and Southern African Region. 
The meeting had a regional focus and was attended by over 70 participants representing a broad range of stakeholders including paediatricians, NTP managers and focal points for childhood TB in the NTP, MCH representatives, technical and financial partners, community TB representatives and WHO staff from headquarters, regional and country offices. Members of the AFRO Regional Childhood TB Task Force were also present. The main purpose of the annual meeting was to share country experiences in scaling up the response to childhood TB and to discuss next steps to move the agenda forward.
The TB-Speed team participated in order to have an update on the activities of the working group since the last annual meeting.